Beyond Guardian Air Purifier
The Office Air Quality Safeguard
Beyond Air is perfect for businesses that want ultimate indoor air quality protection. This system has a proven reduction rate of 99.99% of bacteria, viruses, mold, and fungi in Air & Surfaces (after 60 minutes of treatment).
This unit is the only air purifier on the market that uses an exclusive combination of technologies, including ion generation, a better-than-HEPA filter, Photocatalytic Oxidation, and our proprietary ActivePure® Technology.
BENEFITS
ActivePure® Technology is the only air purification technology in the world granted for Certified Space Technology seal by the Space Foundation
Ten Unique Features: includes technologies to capture 99.97% of particles as small as 0.1 micron
Whisper-silent operation
Coverage up to 2,000 sq.ft.
Eliminates common triggers of allergies, asthma, and irritants to those with sensitive immune systems
Portable, no installation required
Destroys VOCs, smoke and odors without ozone
5-year limited warranty available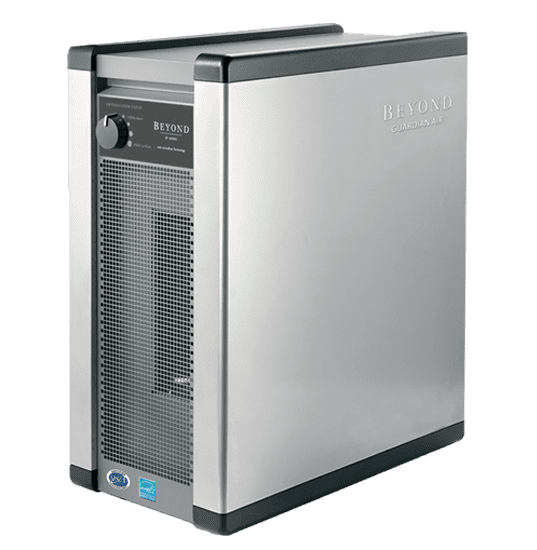 BEYOND AIR SPECIFICATIONS
| Description | Specification |
| --- | --- |
| Power Consumption | 23 watts to 80 watts |
| Weight | 34 lbs |
| Dimensions | 23″H x 20″W x 11″D |
| Air Exchange | 351 sq. ft at 4.2 ACH (air changes per hour) or up to 2000 sq. ft. at 1.0 ACH |
| Coverage | Up to 2,000 sq. ft. |
HOW IT WORKS
Our proprietary ActivePure® Technology uses light waves and a catalytic process to produce superoxide ions and hydro peroxides that destroy contaminants in the air and on surfaces
Features a high-intensity UVC light that makes use of the same oxidation and ionizing properties of light as naturally occurring sunlight
Certified Space Technology continuously protects and purifies the environment
Proven effective in independent studies against bacteria, viruses, mold, and fungi in the air and on surfaces
UNIQUE FEATURES
Positive and Negative Multipoint and RF Ion Generation
Five Speed Fan
LCD Display
Maintenance Reminders
Replaceable ActivePure® Cells
Removable Rear Grill
Universal Power Supply with cords
HEPA and Activated Carbon Filters
SIGN UP FOR A FREE TRIAL
Want to test-drive our bottleless water coolers? Sign-up today for a free trial!